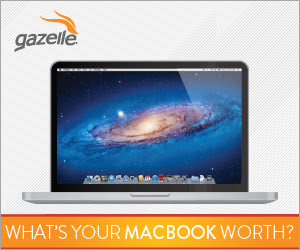 Post contains affiliate links – I expect to be compensated for this post as a Gazelle affiliate. 45-Day Price Lock for MacBooks ends 3/20/2015. $20 Bonus Offer Terms and Conditions: One per customer and only applicable on MacBooks. Ends 3/22/2015.
Trade-in your MacBook with Gazelle's 45-Day Price Lock Promotion!
Are you planning to buy a new MacBook when they are released on April 10th? They are said to be the lightest notebook ever at just two pounds and boast a 9 hour battery, retina display and silent operation
If you're counting down to April 10th, you'll want to check out Gazelle's 45-day price lock promotion. You can lock in the price for your old Macbook trade in (offer ends 3/20!) and hang onto it until you get your new one. Lockin in your price now means you'll get the most for it before it depreciates further.
To make it even better, Gazelle is offering a $20 bonus on any working MacBook valued at $50+ at trade-in at Gazelle.
Gazelle sells certified pre-owned devices and pays cash for used electronics. Just go to their site for a quote, then pack it up and ship to Gazelle. You get money in hand and your old electronics are refurbished and travel to new homes, staying out of the landfill.
Lock in your MacBook price for 45 days at Gazelle – valid through 3/20! Go to Gazelle today, and see what your MacBook is worth!
Bloggers – earn money by becoming a Gazelle affiliate.