About Me
Who the heck are you? My name is Maria. I'm in my early 30s, married, and have a 8 year old daughter, a 4 year old son, and a 1-year old son (my first home birth.) I love gadgets, baking & organization. I enjoy exercising but I despise the treadmill. I need fresh air and nature!
I worked in the insurance industry before my kids were born, and hold several AICPCU-IIA designations. I've also been a Mary Kay consultant for 10 years!
I've been cloth diapering since 2009 and I love my fluff!
What is this blog about? Originally, it was about cloth diapers, but it's about a lot more than that now.
Why did you start it? When I started writing, I never thought anyone other than my best friend (and maybe my Mom) would read it. I was going through a difficult time and really needed something to do, for myself. I started taking pictures and writing posts about the cloth diapers I was using and it grew from there!
Do you do giveaways? I love doing giveaways and I actively seek out companies and products I think my readers would be interested in. Just follow the instructions on the post to enter. I make one entry very easy because I don't like confusing jump-through-the-hoops giveaways! You do not have to follow my blog, Facebook, Twitter etc. to enter. Of course, if you like my content, please do subscribe! I offer additional entries, but they are all optional.
I do not run any giveaways on Facebook, as this is a violation of Facebook's terms of use. I realize other, bigger pages/companies do it and haven't gotten caught. However, I do not want to see my page deleted!
Where do you advertise your giveaways? See this post for a semi-complete (and always updated) list!
Do you have a privacy policy? Are you going to sell my info? I use your email address to contact you if you win a giveaway, to respond to a question you have, or to reply to a comment you made if you've made it available. If you win a giveaway, I share your mailing address with the company. If it's a giveaway that I've sponsored, your address may be shared with the company from whom I order your prize. I do not sell or share email or mailing addresses otherwise. I don't send you spammy annoying emails telling you about blog posts, giveaways etc. If you WANT email updates, you may sign up for them.
Please view my official Privacy Policy. (This is a PDF file)
If giveaway entries are collected via a Rafflecopter entry form, Rafflecopter's Privacy Policy also applies.
Do you get free stuff? I review both products I've purchased and products that are sent to me by a company. If items were given to me, I will clearly state that.
How do I know you're not just saying you like stuff because you got it for free? I will always review products honestly, whether I bought it or it was given to me. I include the good, bad and ugly. Free or discounted products will never affect my review. I have heard people comment that they never see negative reviews from bloggers. If I receive a product that I just can't say anything nice about (hasn't happened yet) I would send it back to the company before I wrote a post that was entirely negative press. So, you will probably never see a post full of flaming dislike for a product!
How do I know you're not just trying to sell me something? All affiliate links are on my affiliates page, and there are a few relevant affiliate ads on the main page. Some posts may contain affiliate links. If you decide to make a purchase through one of my affiliate links, thank you!!
How can I get on your blog roll? Just let me know you'd like to be listed! Sorry, I only add blogs I would read (like my readers' blogs.) I won't add junky spammish sites full of nothing but affiliate ads.
Do you sell ads? Any ads will be relevant, family friendly and as neat as possible. I want my blog to be quick to load, uncluttered and easy to read! In the end, more interest, traffic and yes, a little money made means a better blog with more and better reviews/giveaways for you!
Are you a cloth diaper expert? No way! I'm just another Mama who has been there and done that. I make mistakes more than I'd like to admit, so if you see something incorrect, please point it out to me. Just be nice please.
What if I saw a product I was interested in you reviewing? Just contact me, I may have already tried it. If I haven't, I'll make every effort to review it for you. Keep in mind that not all companies will provide products for me to review, and I have limited funds to purchase items myself!
How can I contact you? I love comments and questions! You can email me anytime at maria at change-diapers dot com
or
Do you have a Facebook and Twitter Page? Sure do! Change-Diapers.com on Facebook and Change-Diapers.com on Twitter
What are you going to do when your children are out of diapers? Will the blog be gone? I hope to remain involved in the cloth diapering community even after my children are out of diapers. I also plan to continue to review and write about other natural and earth friendly products.
I have a product I would like you to review, what do I do? Please see my PR Page for more info, then just get in touch with me. Even if you are a brand new work-at-home-mom, I would love to review or test for you.
Disclaimer: Do not rely solely on any information obtained from this website. All information and details are accurate to the best of our knowledge however, information and pricing may change, and mistakes happen. We will not be held liable for any injury, damage or losses occurring from the use of this website.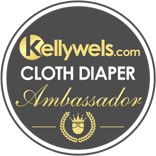 [I am in Circle of Moms Top 25 Eco-Friendly Moms - 2013!]