Change-Diapers received a product at no cost for review purposes. We were not otherwise compensated for this post and all opinions are our own. The Bambino Mio two piece MioSoft diaper comes in your choice of cover size: size one (under 21 lb) and size 2 (over 21 lb).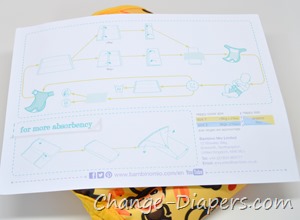 The covers are lightweight yet sturdy, and quick to dry.
Covers have a wipeable interior, double leg gussets and both back and waist elastic. They are available in hook & loop closures only.
The one-size diapers (like a prefold) can be folded in either direction for a great fit.
Katie really liked this system for night time because it was large, absorbent and easy to add a booster.
Katie really liked the Cheeky Monkey print and felt the size 2 fit her 31 pound 1 1/2 year old very well. Though she typically prefers snaps over hook & loop she got a great fit with this cover. It offers a nice trim fit during the day with plenty of room for night time absorbency.
Covers are $10.99-$12.99 each and diapers are $10.99 for a 4-pack, You can also get a trial pack (1 cover and one diaper) for $15.99
Mioboost booster pads are a trim way to add extra absorbency. They have stay dry material on top to keep baby dry and are 100% polyester inside with 88% polyester/12% nylon outside. Katie found they were quick to dry.
A 3-pack is just $7.25 and Katie loved them as a booster in the Miosoft. When she occasionally ran into the issue where baby needs a diaper change but it's too early for a night time diaper and a waste to put a super absorbent diaper on him, she popped a Mioboost into the Miosoft cover to get him through to bedtime. What a smart idea!
Shop Bambino Mio USA, "like" Bambino Mio USA on Facebook, follow @BambinoMio on Twitter as well as on Instagram, on Pinterest and on YouTube.
Would you like to try a Bambino Mio MioSoft Diaper?