I received a complimentary product for review purposes. I was not otherwise compensated, and all options are my own. Bummis has done it again with their new Best Ever Bib. This aptly named bib is made from the same material as their waterproof cloth diaper wraps, and is made in Canada with USA made materials.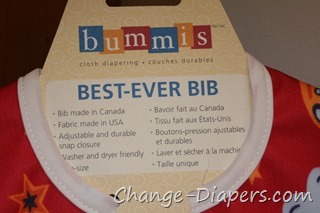 The lead, phthlate and BPA free bibs are washer & dryer safe!
The generous pocket catches dropped food, and the bib closes with plastic snaps. There are two snaps so you can get a great fit on your little one.
The bib's fabric is soft, and I think that's a big reason why it doesn't bother my son like other bibs do (he usually pulls them off!) Of course, he can't yank this one off thanks to the snaps, but he didn't even try. The fabric laid smoothly against his clothing and he didn't even seem to notice it.
The bib's generous size (10 3/4″ across and 13 1/2″ tall) allowed it to even cover his shoulders.
Most importantly, it kept his clothes free of spaghetti sauce!
The Best Ever Bib is available in 8 great prints that match Bummis wraps, and retail for $12.95 each.
Giveaway: Bummis is offering one of my readers his/her choice of Best Ever Bib print (ARV $12.95.) Entries go in the Rafflecopter form below.