I've been using Bummis Swimmi swim diapers for almost three years now, and Bummis recently sent me complimentary products from their new sun line to review.
Sun caps are available in floppy or flap styles, 5 prints to match swimmis, and 3 sizes.
The hats have SPF 50 crowns & brims, along with elastic at the back for a snug fit.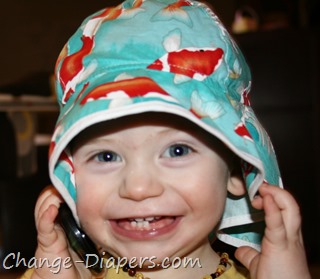 My son is not quite 16 months old (petite, but average head, LOL) in the size medium.
Choose from 2 colors/sizes of tankini top or 3 sizes/2 colors of UV tee for easy diaper changes and sun protection. The tee is made of swimsuit material milled in Canada, and designed to be soft & durable.
My son is less than 16 mos/20 lbs in these photos in a size large tee.
MSRP as follows:
Sun Cap : Canada & USA – $17.95
Swimmi : Canada – $14.95 ; USA – $14.50
UV tee : Canada & USA – $21.95
Tankini : Canada & USA – $12.95
The sun line is made in Canada! Find a retailer, browse all Bummis products, and find Bummis on Facebook, @Bummis on Twitter, Bummis on Pinterest, BummisCloth on Instagram and follow the Bummis blog.
Giveaway: One reader will receive his/her choice of size & color/print swimmi, sun cap & UV tee or tankini top. (Combined ARV $54.40.) Entries go in the Rafflecopter form below.
I received the pictured products at no cost for review purposes.I was not otherwise compensated for this post and all opinions are my own.