As a Kelly Wels ambassador, I received a new "Hip Mom" cloth diaper advocacy shirt for free! I suspected the fit would be similar to American Apparel shirts, so I went with a large vs. my usual small, and I'm glad I did.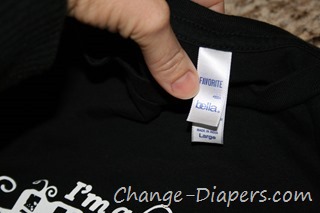 The shirts are Bella "favorite tees" and they are super soft. They are a fitted style and do shrink a bit as well.
Here is the large measured laid flat after shrinkage, top to bottom and width where the sleeves meet the body.
Here I am "modeling" it, LOL.
The shirts are available for women, men and children, with white or pink lettering. You can buy one for around $20 at select Green Team retailers.
I received this shirt free as a Kelly Wels Ambassador.