Enkore Kids is a children's consignment store in Boonsboro, Maryland, which also sells new (and used) cloth diapers, baby carriers and more.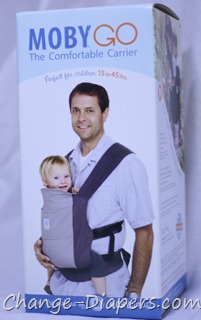 Enkore sent me the newest addition to their babywearing line, the Moby Go carrier.
The Moby Go carrier is designed for babies from 15-45 pounds, who have outgrown stretchy wraps. At first glance it looks very similar to other soft structured carriers (SSCs), but two things stand out to me. One, the straps criss cross in the back vs. having a back buckle and two, the price; it retails for just $79.99. However, unlike many other SSCs, this can only be used for a front carry (facing in), not a back carry. I'm excited that the features and price will help it appeal to people who may otherwise purchase a "crotch dangler," and who may not need/want to do a back carry.
I am picturing the gray, but the carrier also comes in black.
The front pocket holds a hood (more like an actual hood from a coat than the "hoods" on other SSCs) which can be removed. There are three velcro strips inside the pocket so you can adjust the height of the hood.
There is padding at the leg openings to make it comfy for your baby (and this carrier is also designed to hold your baby in an ergonomic position.)
I love SSCs, but being quite petite, I sometimes have trouble with getting the back strap tight enough that the straps don't feel like they are falling off, yet still being able to reach the buckle! Sometimes this means I end up with the buckle up high, which puts a lot of pressure on my shoulders.
The Moby Go Carrier mimics the comfort of a wrap, with criss crossing, wide straps that buckle at the side of the carrier.
It is possible to buckle the carrier at your waist, pull the loosened straps over your head, then slide baby in and tighten, but I found this a bit difficult since I am petite and had to lift my son quite high to get him in. I also ended up with a bunched up strap this way. The other option is to unbuckle one strap, slide baby in, then toss the strap back over your shoulder and buckle it. It takes a bit of practice to get used to this new design, and the elastic strap (which serves are a backup/safety feature) makes it a two-handed operation. No biggie, it just takes practice when you are used to the typical back-buckle design!
The straps are not padded, but this was not an issue for me. The wide design, combined with the crossed strap design, helps distribute the weight evenly, much like a wrap does.
The waist is very nicely padded, and has a wide size range.
Below I've measured the carrier from top to bottom, as well as the width of the seat and height of the waist strap (in case you are comparing to other carriers!)
I tried the carrier with my 18ish pound, 14 1/2 month old son. My 3 year old is well within the size recommendations, but I couldn't bribe him to let me try him in it! (My 8 year old is barely over the max weight too!) Pulling at the side to tighten was another learning curve for me, and I definitely need them tighter than they are in the photos below.
The hood would be fine for shielding baby from sun or rain, but I prefer the type that snaps to the shoulder straps. The only time I really use a carrier's hood is when I am nursing my son on the go (like in the grocery store) and want a little insurance against him giving everyone a show as I reach for the broccoli. 😉
When my husband tried the carrier, we were all a little flustered since my son was getting crabby.
It took him a few tries to get it on with the straps all in the right place, and he ended up with one strap much tighter than the other. This man can tie a stretchy wrap with no help, so I'm sure this will get easier with more practice!
Shop Enkore Kids in person or online, and find Enkore Kids on Facebook and @EnkoreKids on Twitter.
Giveaway: Enkore Kids is offering one reader his/her choice of a black or gray Moby Go Carrier (ARV $79.95) Entries go in the Rafflecopter form below.