Change-Diapers received a diaper for free. Post contains affiliate links & if you click & buy, we receive a small commission. Thank you! Thirsties never disappoints with their products, and their brand new Natural Fiber AIO is no exception.
Like the original one size AIO, the natural fiber AIO is designed to be a one-stop, easy to use diaper.
Choose from hook & loop or snap closures, and 3 rise settings fit most babies from 8-40 pounds.
Inside the diaper, you'll find 11 layers of absorbency: 3 layers of organic cotton in the body and two 4-layer hemp/cotton soaker pads. The soaker flaps are sewn at the front only which makes it easy to add absorbency and helps them dry faster.
Here's the small rise setting:
Medium:
Large: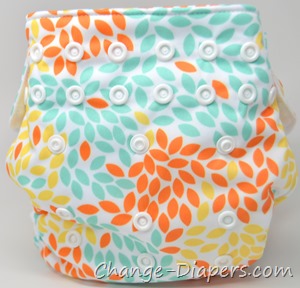 Here's what Katie thought of the diaper:
We've been using the new Thirsties Natural AIO for a while now. We were sent the super cute Fallen Leaves print, which I just love. I was nervous about the fit since the previous AIO version we tried was a bit on the small side.
As soon as I prepped the Natural AIO and put it on my little guy, I was really happy about the fit. It fit him just like the rest of his one size diapers. The absorbency is pretty impressive as well. Organic Cotton is probably my favorite material in diapers since my kiddos are always heavy wetters. It does take a little extra longer to dry, but I have been hanging it for the first half then tossing it in the dryer to finish up and make it soft.
We mostly use it during the day, for naps and travel. I like to put it on him first thing in the morning because that's when he has his heaviest pee. The Thirsties definitely is up to holding all that in. It's also pretty trim, so you don't have to worry about extra bulk when trying to fit them in their clothing.
Have you tried the Thirsties Natural Fiber AIO?