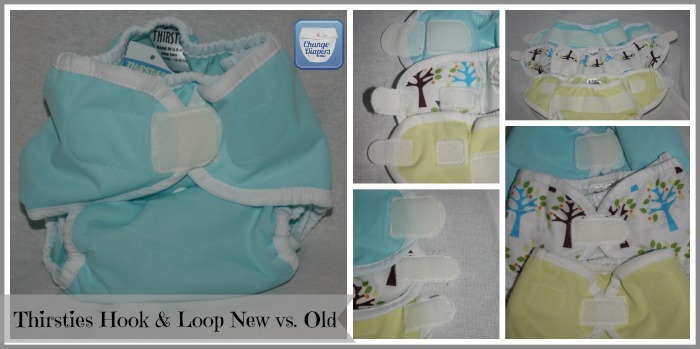 I purchased the pictured items myself at retail prices. I was not asked to write, not was I compensated for this post, and all opinions are my own. Thirsties is one of my favorite brands. Their products are made in the USA, and I have yet to try one that I don't like. I've written many Thirsties reviews over the years and the Duo Diaper is one of my favorites. Though I've since had that particular diaper converted to snaps, that post shows what the old H&L looked like after more than 2 years of constant use. I was psyched to see the announcement of the improved H&L, and purchased one to show you.
The highlights of the changes are that the closure tabs are wider, the laundry tabs are larger (the same size as the closure tabs) and are the same on both size 1 and size 2. Thirsties also consolidated the color options, eliminating some prints, and adding some colors to the duo lineup, including the pretty aqua I bought. You can now purchase the same colors and prints in the duo wraps as you can in the sized covers.
Pictured here is the new hook & loop (top, aqua), the old size 2 (middle, blackbird print) and the old size one (bottom, honeydew.)
The new closure tabs (Thirsties calls them "bullets") are wider, and the laundry tabs are much larger, to hold the tabs more securely in the wash.
Otherwise, the duo wrap remains the same. You can purchase the new covers at retailers, including my affiliate, Kelly's Closet (affiliate links follow.) Duo wraps retail for $12.75 and sized covers for $11.50.
Like any hook & loop, only time (and lots of use!) will tell how it holds up. I don't use covers as often as pockets, so I am crossing my fingers for an awesome replacement for the duo diaper!
Are you excited about the new hook & loop?