Up On the Hill sells Boba 3G carriers, Boba Wraps, Boba Mini doll carriers and Boba Air Carriers, including the new blue color.
I was very curious about the Boba Air, since there have been so many times I found myself out somewhere, wishing I'd brought the carrier! The Air folds so small, you can easily tuck it into a diaper bag, or leave it in your car.
The carrier actually folds up into its own pocket, so it is totally self contained, with no extra pouch to keep track of.
When unfolded, the "pouch" becomes the front pocket for storing the hood/your stuff.
The Air is a lightweight, simplified version of the 3G. It still has the hood with snaps (more similar to the original Boba than the 3G – no additional length adjustment, not removable), and back clip with height and tightness adjustment.
Although the carrier is unpadded, the wide straps aid in comfort. There are no foot straps, but the Air does have the elastic straps to secure excess webbing. I couldn't help but wonder how easily I was going to be able to get this thing stuffed back into its pouch.
Very easily! I was actually able to get it back in there & zipped without any trouble.
The whole shebang weighs only about 3/4 of a pound, and is the size of a large-ish clutch purse.
The carrier can be used for a front or back carry, just like the 3G. There's no newborn snap to use the carrier for tiny infants (a feature of the 3G), but it can be used with children from 15-45 pounds.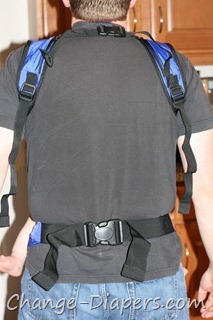 The Boba Air fits a wide range of parents, and adjusts easily. We tried to convince our 3 1/2 year old to let us try him in it, but he was being stubborn. Instead, my hubby carried our 43ish pound daughter, who will be 8 next week!
My husband said it wasn't uncomfortable at all! Since the carrier isn't padded, I wouldn't recommend this as your primary carrier if you babywear a lot, or for extended wear (especially with a very heavy child!) but it is perfect for shopping trips and portability. At just $65, it's also affordable!
Up On the Hill is hosting the Great Cloth Diaper Change 2013 in Shepherdstown, WV. Like the GCDC Shepherdstown Facebook page for details!
Shop Up On the Hill, "like" Up On the Hill on Facebook, follow on Twitter and Pinterest.
Be sure to enter to win your own Boba Air carrier though 2/5/13!
I received the pictured item at no cost for review purposes. I was not otherwise compensated for this post, and all opinions are my own. Post contains affiliate links.