I photographed these products with permission at the ABC Expo. I was not asked to write, nor was I compensated for this post, and I paid my own way to the show. All opinions are my own. The ABC Show excitement isn't limited to cloth diapers. I met lots of fantastic business owners that create and sell amazing cloth diaper accessories (and more.)
Balm Baby has a macadamia and blackseed oil specifically created for oil pulling, natural toothpaste in orange and mint, and an all natural shave cream!
Malena had stepped out of the booth when I stopped by but Taylor, Polly and her husband were there!
CJ's BUTTer is bringing back their tubes, but the new packaging is flexible and super easy to squeeze. It will be available in 4 scents and should be out by Christmas.
Side note: I bought CJ's to tame my hair and I'm glad I did. The hotel water did my hair no favors!
I was psyched to finally meet Mona of EcoNuts after all these years.
Yes, she is just as awesome as I'd hoped. 😉
EcoNuts now has USDA certified Organic certification, and a baby branded liquid product. Two new products are their powdered baby detergent and oxy booster.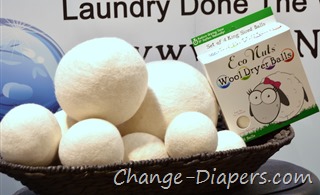 I can't get enough of this little sheep and if you can believe it, I resisted making a 13-year-old boy inspired joke about the display above. 😉 New products should be available this month.
Rockin' Green has simplified their odor neutralizer/air fresheners with Unplugged (Sandalwood), Amped Up (Red Lychee), Stinky Pet (unscented) and Stinky Gear (Tea Tree.) They've also added a disposable diaper liner to their product line. (Unless I dreamed that. I remember it and it's in my notes, but I didn't take a picture. If I didn't take a picture, is it still true?)
I was so impressed by Spray Pal's functioning diaper sprayer display, I had to take an Instagram video! They have introduced their own diaper sprayer which really, just makes sense. This was my first time meeting "Mr. and Mrs. Spray Pal" and their online persona is accurate. They are fun, awesome, kind, amazing people.
I remember Eco Sprout's awesome booth from ABC 2012 in Lousville and it was hopping.
Eco Sprout's newest product isn't diaper related, but it's still awesome.
Soap! I was disappointed that I was sick during my trip and couldn't smell all this stuff very well.
Molly's Suds introduced an oxygen whitener, and despite my dulled sense of smell, I still appreciated the natural lemon scent. It will be available in late September.
Another booth visitor pretended to dab it on like cologne, ha. It smells that good.
Snappi is branching out and now has a baby chair.
They also have these door stoppers that look super durable, and make me wonder whether the placement is unique, or if I've been using door stoppers incorrectly my entire life.
The company is also distributing B.O.N. oil, which is a natural skin oil.
I haven't tried it – I didn't notice the tester bottle when I took the photo (I'm super observant donchaknow.)
Earth Mama Angel Baby gave me a chuckle with their "So Safe You Could #LickMyNipples" campaign, but it's really true. Their nipple cream is all natural with zero toxins, so no worries about your baby ingesting it. They have several products that are now non GMO product certified, and their lotion is now available in non-scented and calming lavender.
Their packaging also got a makeover, and while the changes are subtle, I'm really digging it! New products & packaging should be available in October.
Which of these new products are you hoping to try?