Post contains affiliate link. We confirmed that microfiber inserts lose absorbency over time, but what about rayon from bamboo?
If you want to know why I am saying "rayon from bamboo" read "'Bamboo' Fabrics" and FTC Charges Companies with 'Bamboo-zling' Consumers with False Product Claims. I make no judgements but I do not want to be misleading to my readers either.
I have two, 2-ply 70% rayon from bamboo/30% organic cotton fleece inserts above. The smaller insert has been used for 2 1/2 years, while the larger one has been used for 6 months. Both started out at 12″ x 15″ and of course, shrunk.
Fabrics made with rayon from bamboo do shrink, particularly with high heat. I was surprised by how much the older insert shrunk when I bought the new one 6 months ago. This is my first experience with 2 identical rayon from bamboo products purchased 2 years apart, so I didn't realize how much it would continue to shrink. Ideally, I'd purchase two identical inserts in each fabric, prep both, then use one while the other sat in a drawer for 2-3 years before doing these "experiments" but well… In this un-scientific experiment, it is worth noting that these particular inserts were changed slightly about 3 years ago, so it is possible that my original insert could be the older, ever-so-slightly less absorbent version.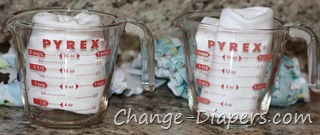 Like my microfiber experiment, I put each insert in a measuring cup and poured 12 oz of water over. I waited a minute, turned them over, then waited approximately another minute. Then I propped them up on top of the cups.
Not surprisingly, the smaller (older) of the two inserts absorbed slightly less water. However, since they were also purchased about 2 years apart, I'm not comfortable saying with complete certainty that they are exactly alike.
So, do rayon from bamboo inserts lose absorbency over time? Perhaps, but nothing like microfiber.