I received the pictured products at no cost for review purposes. I was not otherwise compensated for this post, and all opinions are my own. Poogie Pants mama cloth pads are made by a work-at-home Mom in the USA. They are available in many absorbency levels and lengths to meet every need.
Poogie pants sent me a variety of pads to try including a regular absorbency long (large floral print), super (small floral print) and light (yellow/butterfly print.) These pads are PUL backed, but as you can see I've snapped them PUL side out for the photos so I could tell the difference!
The pads are topped with super-soft suedecloth to wick away moisture and keep your skin dry, and the PUL backing means you don't have to worry about leaks.
Light pads use a layer of Zorb in the middle, regular use Zorb 2 and hemp terry, and super use Zorb 2 and 2 layers of hemp terry. These super absorbent fabrics keep the pads very thin. (Again, the PUL side goes against your undies, but I snapped them the other way so you could tell which pad I was photographing!)
Here is the regular long measured at the middle (snapped), at the widest point, and lengthwise: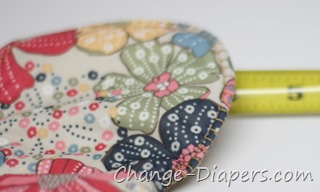 The regular length super:
The regular length light pad/liner:
I have only used these for one cycle, but so far I am loving them. They are super soft, absorbent and feel dry. They are much more comfortable than crinkly paper, there's no icky trash to deal with, and they are so trim for their absorbency. I think they are also well priced, starting around $7 each. I rinsed them after use, then washed with diapers or other laundry, and they came perfectly clean.
Shop for Poogie Pants cloth on Etsy.
Giveaway: One winner will receive two regular absorbency pads made with a core of zorb 2 and a layer of hemp terry. These are backed with waterproof PUL, and have a lining of suedecloth to wick away moisture from the skin. Approximately 9.5 inches long, and 2.5 inches wide when snapped (ARV $14.) Entries go in the Rafflecopter form below.
This giveaway is not sponsored, endorsed or approved by, nor affiliated with Facebook. By entering this giveaway you release Facebook of all liability and understand that you are disclosing your information to me, and not to Facebook.