I received two diapers at no cost for review purposes. I was not otherwise compensated for this post, and all opinions are my own. Post contains affiliate links. I know some of my readers have been frustrated by quality and sizing inconsistencies in Fuzzibunz products and are hesitant to try their new products. The brand is under new ownership, and they have redesigned the one-size diaper and taken steps to ensure consistency. I examined the diapers I received (even turned them inside out) and I was impressed with the quality.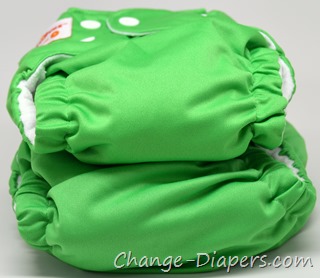 I'll be honest that I was a little confused when the small & large one size were released. I wasn't sure what to make of it, or how you'd choose. Now, I get it, and hopefully you will too after you read this. In case you missed my sneak-peek of the new Fuzzibunz, the video is below (done on a web cam, on a whim, apologies for the quality!)
The new diapers have an improved snap configuration, as well as additional snap options.
The large is wider through the crotch, has a larger insert, and (at the risk of sounding like captain obvious) is larger overall.
Here are both the small and large on their largest leg & waist settings.
The rise of the small gets almost as small as the XS perfect size.
In fact, I feel like the legs get even smaller and would be a better fit on little chicken legs.
Just like the previous one-size and Elite versions, the waist and legs both are adjusted through buttonhole elastic. The one size small is recommended for babies from 7-30 pounds and the large for 10-45. For reference, the perfect size XS is recommended for 4-12 pounds, small 7-18, medium 15-30 and large 25-35. I got tons of use out of our medium perfect size, but was surprised that it was larger than the one-size I'd purchased in 2009. All of the one-size I had were the same, so I didn't realize there were others out there that were much larger. I had a not-so-nice person on a cloth diapering board essentially call me a liar when I said my medium was larger than my o/s. When I showed the photos in a blog post she gave me a virtual "sigh/eye roll" and said oh THAT'S why, you're trying to get traffic. But I digress!
I do really like that the elastic is easily replaceable (no cutting or sewing required), and really, you can get extra mileage by cinching it a bit tighter as it relaxes. The Fuzzibunz sizing chart helps you decide what settings to use, but there are even more options so you can really customize.
Above I've pictured the small & large on the smallest settings. Although the Elite has been discontinued, I thought you might be interested to see how the new diapers compare.
The overall cut seems similar, though the new version has a better snap configuration, different wing shape, wider rear elastic and a snap overlap.
The inserts have a contoured shape, and the pocket opening has elastic as well. The contoured insert is nice, but it is a bit more difficult to stuff.
Although my 2 year/9 month old is a petite 26 lbs, the one-size small seemed pretty small to me at first glance. I put it on the large rise setting (photos above) but ended up bumping down to the medium and got a great fit.
Above he is wearing the large one-size on the medium rise setting. Also a good fit. I suspect this would fit his 5-year old, 35 lb brother just as well but alas, he wouldn't let me try it on him!
My reviewer, Katie, tried the diapers on her boys, who are the opposite of my little peanuts! She was never a fan of the original one-size or the elites, but was impressed with the fit of both the small and large one-size diapers.
Her not-quite-3-year-old is 48 pounds (beyond the recommended size range) but it fit him and lasted through nap time.
The one-size small fit her 16-18 lb 4 month old very well. Katie also felt the large was a bit difficult to stuff with the contoured insert, but appreciated the extra absorbency.
So how do you know which size to buy? Do you need to buy both? In my opinion, if you liked the cut & fit of the smaller/narrower original one-size, you will like the small. Did you prefer the larger/wider elite? Grab the large. If you want to cloth diaper a baby from birth with a one-size, consider the smalls. Have 9-10+ lb babies? Have a larger toddler already? Try the large.
Shop for the new Fuzzibunz one-size diapers at my affiliate, Kelly's Closet.
Have you tried the one size small & large yet?