Change-Diapers received products at no cost for review purposes. Post contains affiliate links however all opinions are our own. I published my Funky Fluff cloth diaper review more than 3 years ago and I'm happy to share their brand new LUX shells and soakers with you.
Since I donate my review diapers I unfortunately don't have a side-by-side comparison for you but I will point out the differences! The two prints I reviewed were named by fans as Chantilly and Maritime. They are even prettier in person than they are in pictures.
Funky Fluff LUX is version 3.0 and comes with a slightly wider (by 1 cm) crotch to make it easier to stuff. The back of the snaps are lined with PUL vs. version 2.0's suedecloth backing and the elastics have been upgraded to be more durable. Shells also have a strip of PUL at the front to prevent leaks.
In my photos Chantilly is bamboo and Maritime is stay dry.
Diapers have snap overlap with hip snaps.
There are 4 rise settings to fit babies from 7-35 lbs.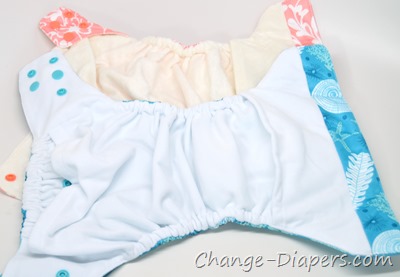 In addition to a pocket, diapers have a snap in the front and rear to secure inserts.
Soakers have also received an upgrade. Microfiber has been retired completely. (Previously the stay dry system was available with microfiber soakers.) Instead, soakers are now bamboo viscose and are contoured for a better fit. You can also now snap small and large soakers together as well as into the shell. There's no shortage of absorbency since the large soaker is 6 layers and the small is 5 layers! Soakers are sold as a set of small and large. (MSRP $9.50)
You can use the diapers any way your little heart desires!
Funky Fluff DeLux are the new premium soakers made of hemp fleece and bamboo viscose fleece fabric.
They are sewn so the fleece side is inside and the smooth side is outside. This makes the soakers feel and stay soft. You get the absorbency of fleece but no pilling.
The DeLux soakers have 2 layers of bamboo viscose and 2 layers of hemp (50% bamboo/20% cotton/30% polyester + 55% hemp/45% organic cotton fleece). These soakers have the two layers sewn to each other, then the hemp/bamboo sections are sewn together in the middle with two stitch lines. This helps channel urine to the middle and also cuts down on dry time.
Like the regular soakers, these are contoured, snap together and onto the shell, and come in a set of small and large. (MSRP $15.95.)
Current Funky Fluff bamboo fleece boosters will be replaced by brand new hemp fleece (55% hemp/45% organic cotton) boosters.
Boosters are 3 layers, contoured and do not have snaps so you can lay them in any diaper for an absorbency boost.
MSRP $13.95 for a set of 2 boosters.
Here is the XS/Newborn rise setting:
Small:
Medium:
Large at the outermost setting – hip snap not used (it's hard to get large diapers to stand up on their own!):
My son was 3 1/2 and slim at just under 30 pounds in these pictures.
My son is potty trained and only occasionally wetting a night time diaper at this point but I liked the fit on him. I felt it was pretty trim if using only one insert.
Katie's son is the polar opposite of mine at about 30 pounds and 15 months old.
He's on the last/inside hip snap but Katie doesn't think he will outgrow it since he will likely slim down a bit.
She used the bamboo diaper with both inserts overnight (8+ hours) with no leaks. One insert alone worked great for everyday use and adding the booster to a single insert got them through nap times. Katie finds the snap in inserts very helpful since her little guy is super active and running and climbing on everything!
The MSRP of the diaper system (shell and inserts) is $23.45 for stay dry or $24.45 for bamboo. ($1 savings over buying a shell and insert pair separately.) Just need shells? The stay dry version retails for $14.95 and the bamboo for $15.95.
You can find Funky Fluff LUX at cloth diaper retailers now!
Check out all of Funky Fluff's offerings at FunkyFluff.ca and be sure to "like" Funky Fluff on Facebook. Tune in for a giveaway next week! What new feature are you most excited about?